A warm welcome to you
...from all at Kingsteignton Community Baptist Church
From May 23rd, we are meeting again at the Kingsteignton Community Hall for Sunday worship.
Currently, there is a restriction on numbers, so if you would like to guarantee a place, please inform us using the email opposite. You will need to sign in or use the QR code, wear a mask whilst in the building, and sit either at a 2m distance or in your official bubble.

You can also join us either online live using the green 'Online service'
button (above, right) or catch us later by watching the recorded worship, again, using the green button.

Home groups are meeting using Zoom conferencing and Messy Church continues through craft resources and a story video. The KILTS family are sent craft and story resources every week by request.
Do join us - you'd be very welcome!

We are pleased to welcome you to our website. Our church community is made up of people from many different stages of life and cultural backgrounds and we hope you will join us and find KCBC can be a place you can call 'home'.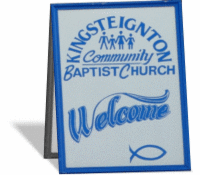 It may be that you would like to visit us in person and we want to assure you of a warm welcome to our services or to any of our varied activities.
We believe that the message we share and the values we live by are as relevant today as they have ever been, and it is thrilling to see the way many people's lives continue to be transformed through a personal relationship with Jesus Christ.
Please come and visit us or get in touch with me if you would like to know more.
David Goddard
(Minister of KCBC)